Residential heat substation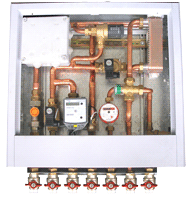 Residential heat substation
              
Residential individual heat substation provides heat supply of a separate flat (heating and hot water supply with maintenance of preset temperature regardless of consumption), using heat carrier of general three-pipe system of heating and water supply in building (supply line, return heating pipe and tap water supply).
The heat point is made as a compact unit (as cabinet) or on a frame for installing into niche for simplification of design and mounting works.
The heat generator is located in defined place (for example, in gas heating boiler system "Ukrinterm") and provides all flats of a building with heating. It siplifies system maintenance, raises its reliability and safety, minimizes costs for system control and makes it more efficient.


The residential heat substation allows to organize the assessment of consumed by a flat heating and cold water and also gives the ability to turn off the heating and water supply to non-payer's flats.

The main features of ITP:

heating regulation
hot water supply
heating assessment
consumed tap water assessment
centralized data transmission (optional)
Specifications
Maximal working pressure: 10 bar
Heat carrier temperature range - to 90°C
Power of brazed heat exchanger - to 35 kW
Connections: 3/4" Supply of electricity - 220V/50Hz
Selection of equipment
Promotional Products