Floorstanding boiler UKRINTERM-13,20,95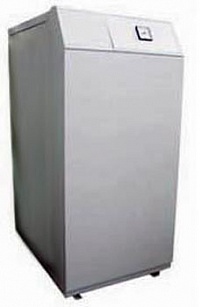 Floorstanding boiler UKRINTERM-13,20,95

Gas floorstanding boilers Ukrinterm-13, 20, 95 for heating and hot water supply with steel heat exchanger are intended for heating of residential buildings and public constructions which are equipped with water heating systems with heat carrier natural circulation.

Boilers Ukrinterm-13, 20, 95 are nonvolatile (no need in electric power supply).


They are fitted up with gas automatic for maintaining of preset water temperature in the heating system and turning off gas supply if emergency (flame extinction, draft lack, heat carrier overheating, gas supply termination).


The boiler uses natural gas (GOST 5542-87).


Specifications
Parameter name
Units
Values for UKRINTERM
13
20
95
Nominal heat power/productivity, ±10%
kW
15/13
23/20
99/85
Nominal gas pressure
Pa
1274, 1960
Maximal gas flow rate when t=20°C atm.pressure 760 mm m.c., Qn.r. = 8000 kcal/m3
m3/h
1,57
2,39
10,64
Coefficient of efficiency, not less
%
87
89
90
Working heat carrier pressure, not more
MPa
0,3
0,2
Heat carrier temperature range on the outlet of the boiler, from (not more) - to (not less)
°C
50-85
Combustion materials temperature on the outlet of the boiler, not less
°C
110
Overall dimensions *, not more:
- height
- width
- depth
mm

900
415
630

900
600
700

1150
900
810
Mass, not more
kg
70
100
290