Gas heating boiler system Ukrinterm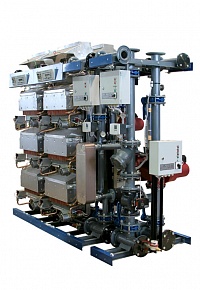 Gas heating boiler system Ukrinterm
              
Heating boiler system "Ukrinterm" is intended for heating and hot water supply of the industrial, residential and communal buildings and constructions.
Gas heating boiler systems are mounted from the manufactured modules in quantity and mix ordered by customer and may be arranged in built-in accommodations, additions, bulkheads and apart buildings in accordance with current building code.
Heating boiler systems use natural gas.
 
Heating boiler system consists of the defined by particular project quantity of heating modules and may compounds the next equipment: module for heating system regulation AR, ARD, permanent temperature module ATS, ATSD, domestic hot water supplying module MHW additional equipment for mounting of separate modules into the heating boiler system.
Besides domestic hot water supplying module MHW JV «Ukrinterm» proposes special
hot-water supply unit UHWns
for different power (90, 150, 200, 250 kW). 
Water softening unit manual and automatic are used for softening of supplied water. 

Specifications
Name
Unit measure
Value
Nominal heat output
kW
80-1200
Heating power control band
kW
72-1080
Efficiency, not less than
%
90
Type of gas
-
natural
Nominal gas pressure
Pa
1274 (1970)
Maximum working pressure of the heat-carrier
MPa (bar)
0,6 (6)
Maximum temperature of the heat-carrier
°C
95
Water temperature in the hot water system (HWS) circuit, not more than
°C
55
Maximum pressure in the HWS circuit
MPa (bar)
0,6 (6)
Power consumption
V/Hz
380/50
Electrical power, not more than
W
600-8000*
Overall dimensions:
height
mm
1697/2200
breadth
mm
1005
length
mm
711-5500*
mass
kg
160-2500*
*Note: according to the quantity of the mounted modules
Selection of equipment
Promotional Products
Modular gas heating boiler system leaflet