Additional equipment for Heating boiler system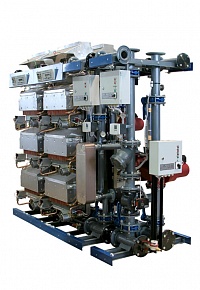 Additional equipment for Heating boiler system
             
Assembly of the module gusset KMV is used in case of odd amount of the heating modules MN120, MN100 when they arranged in two rows.
It is installed opposite the last odd heating module.
KMV consists of two connective tubes (water and gas) and the doors which are arranged on fixed brackets and compose the same balanced row with the doors of the other modules.

There are appliences and parts nessesary for mounting the modules into heating boiler system in this assembly.
The assembly KPCH is used when heating modules MN100 and MN120 are arranged for two-sided service.
There is an assembly KPCHF-n in case of one-sided service of these modules, where n - the quantity of the heating modules, which are arranged in one row.
The assembly 80KPCHF-n is used when mounting the heating modules MN80 in one row, in two rows - 80KPCH.
These assemblies consist of side panel with brackets for its installing, temperature device, control cabinet "K" with brackets for its installing, water-filling device, safety block with gage, pressure switch and automatic device for venting, connective water and gas tubes, electrical cables, sealing assembly, bolts, screws and cells.